More info
Another first from Trackslag! We were the first to produce this downpipe in 3" from day one, however we're now offering this with a 3.5" option!  We did this because anyone using this setup would most likely be tuning it.
It's a two piece downpipe joined by a pair of two bolt flanges, making fitment easy. It's made from European stainless steel and mandrel bent in house, with all welds being back purged TIG.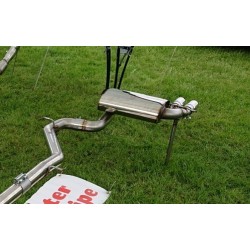 Most people will be running a 2.5" exhaust (probably one of our's) with this downpipe, so we've finished it with a cone reducer taking it down to 2.5", making it easier to hook up.
We use heavy industry techniques and machinery to produce our pipework, often making products without an unnecessary welds or or joins along the entire length of the pipe. As this machinery is computer controlled, consistency is guaranteed, so fitment is assured every time.
Our coded welders are specialists in pipe welding, with many years of experience, so quality reliable welds are assured.
We ship worldwide! Please contact us for a shipping quote.